Keynote Speaker
Keynote Speaker I

Prof. Khalil Hanna
Graduate Engineering School of Chemistry of Rennes, France
Khalil Hanna is currently a full Professor of Chemistry at the Graduate Engineering School of Chemistry of Rennes (France), and member of the "Institut Universitaire de France". He earned his PhD (2004) in Environmental Science and Technology from INSA de Lyon. His research interests focus on iron-mediated reactions for soil and water treatments and an improved understanding of sorption and heterogeneous redox reactions taking place at oxide/water interface. His research group in Rennes is engaged in elucidating molecular-scale reactions at mineral surfaces, and in translating molecular-level information to observations made at the larger scales using thermodynamics and reactive transport modeling. He has published over 120 peer-reviewed original research articles in top international journals (h-index=38 and over 4000 total citations). He has developed several programs and collaborations with international research institutes, and has been invited to give talks and seminars at numerous prestigious universities and international conferences. He has earned numerous awards and grants for his research work from different national and international organizations. He also served as a guest editor of the international journals including Environmental Science and Pollution Research (Springer), and as an Associate Editor of Applied Geochemistry (Elsevier).
Keynote Speaker II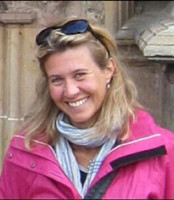 Assoc. Prof. Valentina Busini
Politecnico di Milano, Italy
Prof. Valentina Busini has her expertise in safety engineering and bioengineering. In particular, with regard to industrial safety, she usually works on the analysis of the consequences of industrial events related to emerging risks, such as the CFD modeling of heavy gas dispersion in complex environments, and the definition of methodologies for the evaluation of industrial accidents triggered by natural events (the so-called NaTech events). As far as bioengineering is concerned, she has focused on the interactions between materials and biomolecules, both for biocompatibility studies and for the development of protein separation processes.